July 21st, 2016 - 10:29am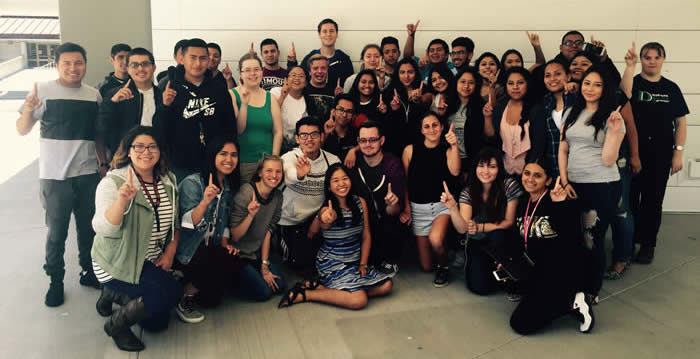 Now in its third year, the Summer Bridge program at College of Marin (COM) is celebrating a growing cohort of students who will entercollege in the fall better prepared for success. In the summer of 2014, COM partnered with 10,000 Degrees to create an intensive three-week college preparatory program with a combined focus on math and English skill building, college success skills, and group bonding.
The program's inaugural cohort was extremely successful, with a majority of the 24 students improving by at least one level on their English and/or math placement tests. Academic improvements translate into savings of hundreds of hours of study and thousands of dollars in tuition and book fees. Students also learn about developing good study habits, discover the resources available on campus, and create an academic plan, all of which complement their determination and desire to pursue higher education goals.
This success led to the program's expansion in summer 2015, with enrollment growing from 24 to 50. The Summer 2016 cohort has ballooned to 88 students, all of whom will begin fall semester that much closer to their degree or transfer goals. Students are typically first-generation college students coming directly from Marin County's high schools. COM English, math, and counseling faculty teach the academic coursework while staff and current students from 10,000 Degrees facilitate the college success and cohort-bonding activities.
Thursday's Summer Bridge graduation ceremony included presentation of a laptop or fall semester book voucher to every participant, thanks to a generous gift from Wareham Development of San Rafael.
"Attending college in the 21st century means having access to a computer for research, assignments, and studying," says Jonathan Eldridge, COM's senior vice president of student learning and student services. "Since many students are taking courses and studying between jobs and family commitments, a reliable laptop can make an enormous impact. College textbooks often cost between $200-$300 per book, which can lead to students taking fewer classes per term. We are so thankful for Wareham's commitment to helping these students begin their college careers with the resources they need."
Summer Bridge is an integral part of College of Marin's college access and completion strategy. COM will use a portion of its Basic Skills and Student Outcomes Transformation Grant received earlier this year to continue the expansion of the Summer Bridge program.
About the College—90 Years of Transforming Lives Through Education and Training
College of Marin is accredited by the Accrediting Commission for Community and Junior Colleges, Western Association of Schools and Colleges, 10 Commercial Blvd., Suite 204, Novato, CA 94949, (415) 506-0234, an institutional accrediting body recognized by the Council for Higher Education Accreditation and the U.S. Department of Education. Additional information about accreditation, including the filing of complaints against member institutions, can be found at: www.accjc.org
College of Marin is one of 113 public community colleges in California and approximately 13,000 credit, noncredit, and community education students enroll annually.