April 6th, 2021 - 12:37pm
Join us in 2021 as we explore how College of Marin's (COM) Umoja program empowers students, promotes unity, and builds community and equity. This is the next Student Spotlight in a year-long series on COM Umoja.
Student Spotlight: 
Taria Gregoire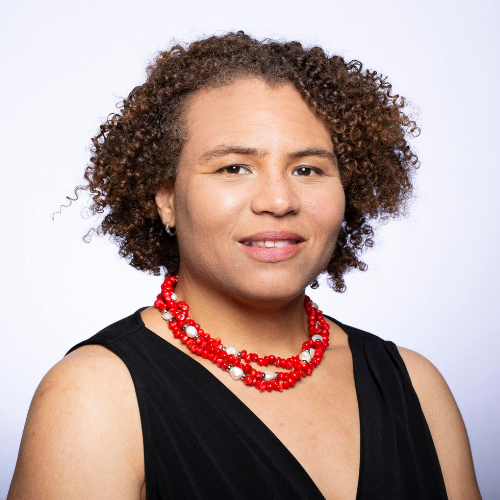 COM alumna, Taria Gregoire, grew up in Marin City and first went to the College while she was a middle school student. While she was a teen, she was shy and preferred to keep to herself. She felt more comfortable observing from the sidelines than being the focus of attention.
She loved art and knew she wanted to find a career that involved art in some way. After graduating from high school in 1997, she attended a yearlong desktop publishing program at Silicon Valley College in Fremont. She landed a job at a Bay Area newspaper helping with the layout of their classified section and creating ads. She quickly moved up the ranks. A few years into her job, she decided she wanted to move from print to working in radio. She started attending Chabot College in Hayward because they offered radio courses.
Gregoire learned she needed to return to Marin to take care of a family member. At first, she tried to commute between Marin and her newspaper job. She soon discovered it was too much of a strain and realized it needed to change.
She found a position close to home and went back to College of Marin to take classes in Early Childhood Education and Mass Communications. She had attended classes at COM off and on for years, gradually taking the classes she would need to earn her associate degree. One summer while attending COM, she met Umoja faculty, Mr. Walter Turner, teaching a class called the History of African Americans. Gregoire felt empowered.
"I heard stories of Mr. Turner, because I live in Marin City," says Gregoire. "But I didn't know Mr. Turner. I was sitting in that class in the summer of 2015, working all of these retail and odd jobs. When I went to class, he blew my mind. He's very humble. But he has this presence about him that just radiates. He's funny, sarcastic, and emanates this sense of exuberance, because when you know who you are and where you come from, you can stand tall. For that, I felt my backbone become stronger when I realized what I was missing. I was thinking to myself, 'what have I been learning all these years? Where have I been?'"
At this point in her life, she had her daughter's future to consider. She no longer wanted just another job to hold her over and pay the bills, and she wanted her daughter to know why education was important. So, she decided to attend COM as a full-time student. This led her to the discovery of COM's Umoja Program by the end of 2015.
COM Umoja had just started that year and was still laying the groundwork to what the program would blossom into. Gregoire remembers becoming a part of the program, "it was a great experience just to be connected to people that had a story similar to mine. Mr. Turner would tell me about my own community, because he used to live there. Having somebody to connect with that even knew my family, it just felt good."
By this point, Gregoire had already taken enough classes to where she didn't need to be a part of the Umoja cohort program. She saw the support the program gave students, the community it built for students, and the confidence it brought them. She saw how it provided students a sense of belonging and a pathway through college.
Over the years while she attended college, she noticed certain things happen while she took tests. She talked about it with her Umoja counselor, Rinetta Early, who reminded her about Student Accessibility Services (SAS). That's when she was tested for learning disabilities. SAS was able to advocate on her behalf. Along with Umoja, she found the additional supports helped her succeed at a higher level.
"It's nice that you have people who are teachers and know what the system is like," recalls Gregoire. "It's nice to be able to share that confidence with somebody who knows the role. Not knowing is part of the reason why I think people drop out of college, because they're not feeling grounded. They start finding alternative routes, because they're not sure what to do."
While Umoja helped ground Gregoire, it also helped bring her out of her comfort zone as an observer. Mr. Turner encouraged her to speak publicly about Umoja. Faculty and staff in Umoja persuaded her to apply for scholarships. They were mentors, advocates, and family.
"Umoja was like the heartbeat for me at COM," says Gregoire. "Because when I felt like I wasn't going to make it, they gave me that breath again. They kept it going and kept me motivated to push on and know my cause, 'why am I here? What am I doing this for? I am doing this for my daughter."
Taking the first step to go to college full-time for Gregoire was a huge leap of faith. Thanks to learning communities like Umoja, resources such as SAS, the reinforced guidance of family, and a lot of hard work, she was the 2017 COM Commencement student speaker. Gregoire graduated from COM with two associate degrees – Multimedia and Mass Communications and a certificate in Early Childhood Education. She transferred to San Francisco State University where she received a bachelor's degree in Broadcasting and Electronic Communication Arts and a minor in animation
"I believe community college is where somebody should stop first, because most 18-year olds aren't ready to go to a four-year," states Gregoire. "And me, too! Even though I was older, I also needed that time to learn to advocate for myself. It takes time to learn that you are your best advocate on and off campus, in life. Going to community college first will give them the life experience to start gradually, slowly getting into things they may have to confront at a four-year campus. It will help them navigate their way and advocate for themselves – because you do have to advocate for yourself."
Gregoire is now an assistant kindergarten teacher in Sausalito. She plans to start a streaming channel where she wants to create stories about our neighborhoods and community members. "I want to give a voice to people who may not be heard," Gregoire says.
"The advice I have for people is to just keep inching towards your goal. I didn't know how things were going to work out. I really didn't, I just knew what I wanted to do. Because I started inching towards a goal, things just started coming together. If you start, people will see your passion and drive that that's what you really want to do. They'll get on the bandwagon and start supporting your cause, because they believe in what you're saying – and because you believe in your heart that's what you could do."
Read our first story on Umoja.
Discover how COM's Umoja Community can help you succeed at
marin.edu/umoja
or how you can
help Umoja students succeed
 by donating to the program. All donations go directly to the program and student scholarships and are tax-deductible.