September 29th, 2023 - 10:03am
KENTFIELD/NOVATO, CA—In commemoration of the October 1966 founding of the Black Panther Party for Self-Defense, the College of Marin Fine Arts Gallery is proud to present The Revolutionary Art of Emory Douglas: Black Liberation, Global Solidarity on exhibit from October 2 to October 27, 2023.
Emory Douglas, the former Minister of Culture for the Black Panther Party, is renowned for his iconic imagery in the Black Panther Newspaper. His art served as a powerful symbol of resistance, self-determination, and Black liberation, resonating with oppressed communities worldwide.
Exhibition Details
Dates: October 2 – October 27, 2023
Opening Reception: Thursday, October 5, 2023, 5 pm – 7 pm
An Evening with Emory Douglas: October 26, 2023, from 5 pm – 8 pm
Location: Fine Arts Gallery, Kentfield Campus
Admission: Free and open to the public
The exhibition will kick off with a grand opening reception on October 5, featuring music and an artist book signing of Black Panther: The Revolutionary Art of Emory Douglas. It also features a special event, "An Evening with Emory Douglas," scheduled for October 26, featuring poetry, music, and a conversation between Xicana artist and activist Melanie Cervantes and Emory Douglas.
RSVP for An Evening with Emory Douglas at emorydouglas.eventbrite.com.
This exhibition is made possible through the generous support of co-sponsors COM's Umoja Equity Institute, Umoja Learning Community, Fine Arts Gallery and Department, and the Arts and Humanities and Communication Departments.
For more information about Emory Douglas and his art, visit the Emory Douglas LibGuide: libguides.marin.edu/EmoryDouglas.
Join in celebrating the enduring legacy of Emory Douglas's art, which continues to inspire and ignite conversations about justice and liberation.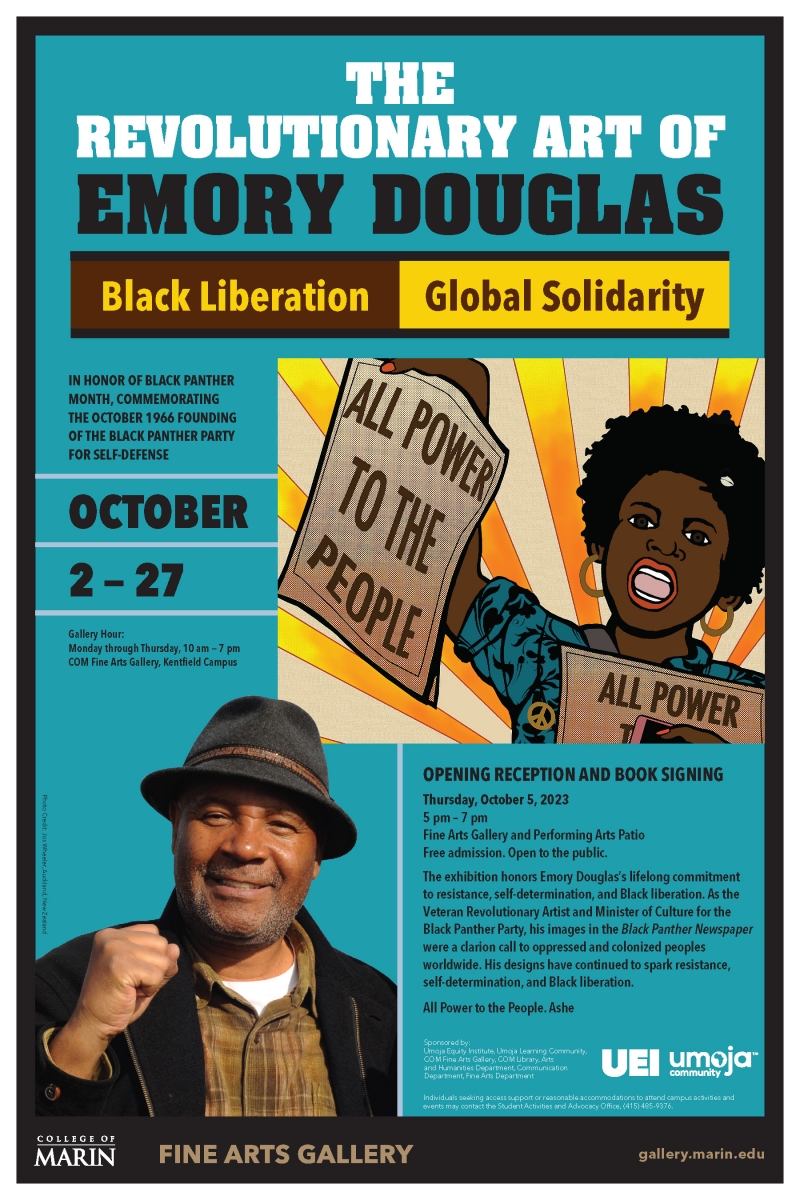 ###
About the College of Marin Fine Arts Gallery
The College of Marin Fine Arts Gallery is dedicated to showcasing thought-provoking and socially relevant art exhibitions. With a commitment to excellence and community engagement, the gallery serves as a platform for artists and ideas that inspire positive change.
  College of Marin Fine Arts Gallery
835 College Avenue
Kentfield, CA 94904
(Performing Arts Building, corner of Sir Francis Drake Blvd. and Laurel Avenue)
https://gallery.marin.edu/