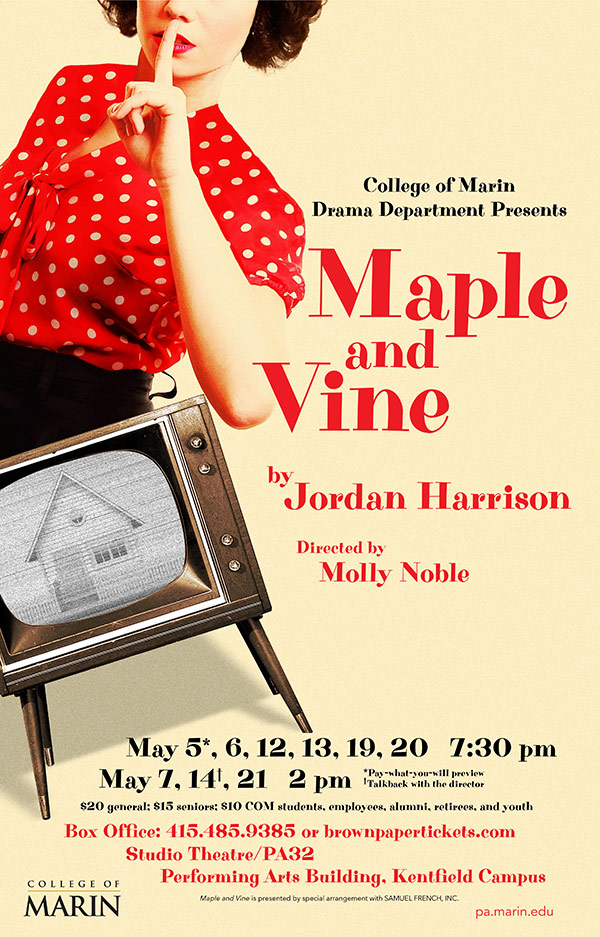 Maple and Vine
By Jordan Harrison
Directed by Molly Noble
Are you tempted to go off the grid? Is modern technology's 24/7 data-driven connectivity sapping your life's blood? Katha and Ryu, a contemporary Manhattan couple are burnt out by the frenzy of modern life, screens, work, cell phone notifications and endless social media chatter. They have a chance to join the simpler times of the Eisenhower era. Jordan Harrison has written a hilarious and poignant fable a la Ozzie and Harriet or Mad Men that asks: Would you really want to go back to 1955?
May 5*, 6 12, 13, 19, 20 – 7:30 p.m.
May 7, 14**, 21 – 2 p.m.
Studio Theatre / PA32
Performing Arts Building
Kentfield Campus
Tickets are $20 for general admission; $15 for seniors; and $10 for COM students, employees, retirees, and alumni.
Box Office: (415) 485-9385
* Pay-what-you-will preview
** Talkback with the director
Individuals seeking special assistance to accommodate a disability may call the Student Activities and Advocacy Office at (415) 485-9376.