December 20th, 2019 - 9:59am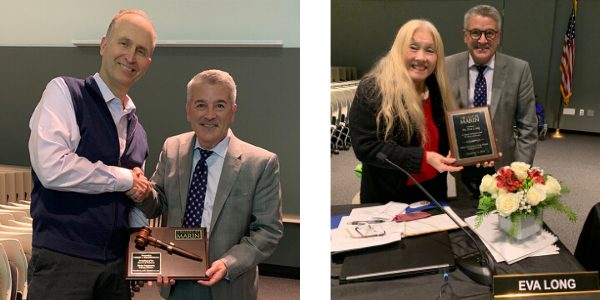 KENTFIELD / NOVATO, CA—December 20, 2019—On Tuesday evening, the College of Marin Board of Trustees held their annual organizational meeting to rotate officers, approve the regular meeting schedule for 2020, and appoint trustees to standing committees. Stuart Tanenberg will now serve as board president, Wanden Treanor as vice president, and Stephanie O'Brien as clerk, through December 2020.
Outgoing President Philip Kranenburg thanked his fellow board members and commented on his experience.
"It has been an honor to be an officer the last few years. We've coalesced as a strong, caring, professional team," said Kranenburg. "There's much to be proud of."
As outlined in Board Policy 2305 and corresponding Administrative Procedure 2305, board officer positions rotate annually among all elected trustees, with each trustee moving up one position yearly. The exception is the board president, who moves to the end of the rotation list behind any newly elected trustees.
Following the rotation of officers, Trustee Eva Long, Ph.D. was recognized for 20 years of service as a board member and presented with a commemorative plaque and flowers. Trustee Long was first elected in 1999, and her current term expires in 2020.
Information about the College of Marin Board of Trustees, including the meeting schedule and agendas, is available at http://www1.marin.edu/board-trustees.
 
About College of Marin
Established in 1926, College of Marin remains committed to educational excellence, providing equitable opportunities, and fostering success in all members of its diverse community. With campuses in Kentfield and Novato, students of all ages have affordable access to an exciting variety of credit and noncredit courses as well as community education classes for lifelong learning. College of Marin is one of 115 public community colleges in California and nearly 14,000 credit, noncredit, and community education students enroll annually.   College of Marin is accredited by the Accrediting Commission for Community and Junior Colleges, Western Association of Schools and Colleges, 10 Commercial Boulevard, Suite 204, Novato, CA 94949, (415) 506-0234, an institutional accrediting body recognized by the Council for Higher Education Accreditation and the U.S. Department of Education.