November 17th, 2017 - 3:08pm
News Contact:
Nicole Cruz
Office of the Superintendent/President
(415) 485-9508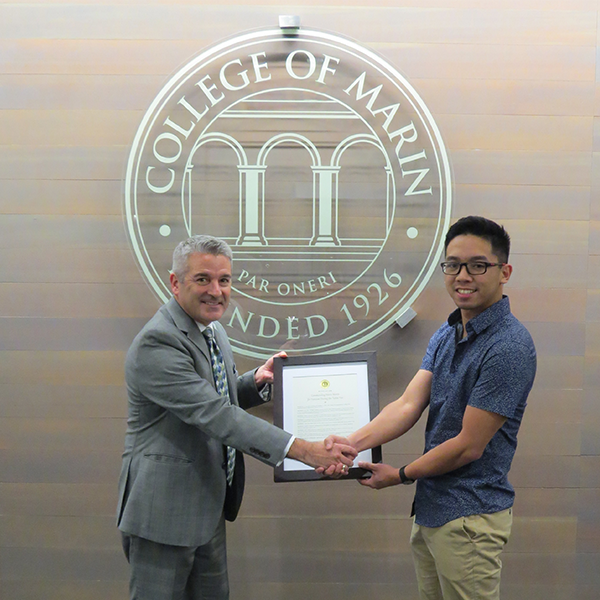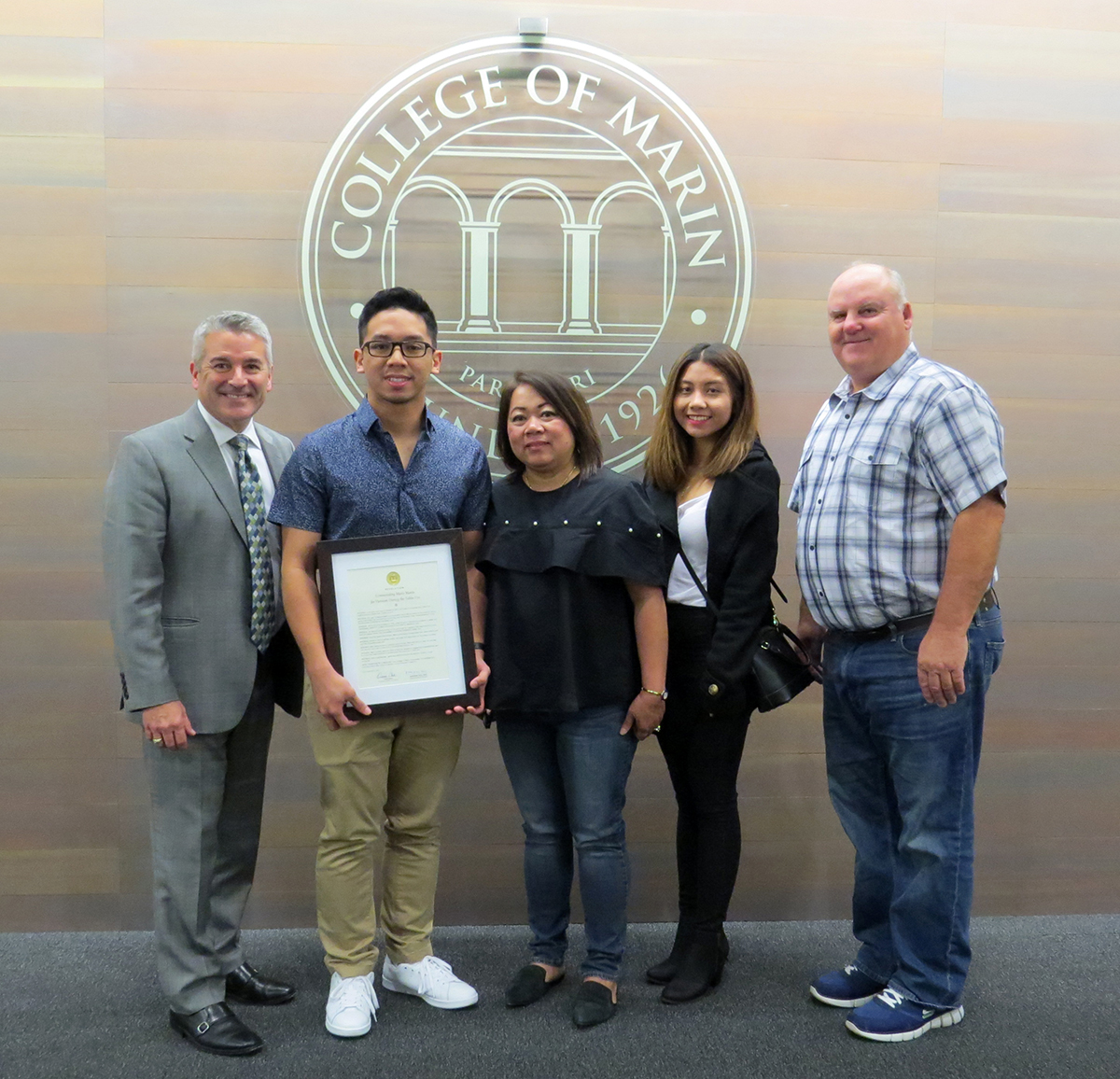 Board Commends Nursing Student Mario Monte for Heroism During Tubbs Fire
Resolution recognizes the five lives he helped save
KENTFIELD / NOVATO, CA—November 17, 2017—This week, College of Marin (COM) Board of Trustees recognized first-year nursing student Mario Monte for his actions which helped save the lives of five elderly women. At the board meeting, held Tuesday evening, Monte was presented with a resolution commending his heroism during the recent Tubbs Fire in Santa Rosa, CA.
In the early morning hours on October 9, the Tubbs Fire reached the Coffee Park neighborhood of Santa Rosa. Monte, who worked at the Kathleen Rose Gardens Assisted Living Facility, was the only caretaker on shift. He awoke to the sound of strong winds and noticed the fire closing in on the facility.
His only concern was evacuating the five elderly women to safety and immediately jumped into action. Monte called 911 to report the situation and request assistance then began moving the women from their beds to outside where they could be transported to a safe location. Once first responders arrived, Mario continued to help with rescue efforts. Thanks to his quick response and determination alongside emergency personnel, all five women and their dog were saved.
Like many others, Monte lost his home, his job, and his personal items in the wildfires. Despite the devastation and uncertainty wrought by the fires, he was adamant that it not affect his studies. The morning after the fires destroyed the facility, he showed up for clinical at 6 a.m. with a borrowed uniform and no excuses or mention of the tragedy he had endured the evening before.
"Mario didn't miss a day of clinical, nor did he miss a scheduled examination," says Nursing Instructor Jeannie Langinger. "When asked if he needed anything, he only asked to borrow a pen. Mario is our program's hero."
According to staff and students in the Registered Nursing program, Monte quickly made a name for himself as a selfless and generous individual—the kind of person who is always thinking of others before themselves. He hasn't lost hope and continues to project a positive attitude.
"It's been a tough few weeks for me and my family, but life goes on," says Monte. "It gets better."
A family member of one of the women whose life he helped save approached Monte asking to set up a Go Fund Me account and also offered to help financially. He humbly declined, suggesting that those efforts be sent to current first responders as they were the ones truly in need. COM's Nursing Department has provided Mario with replacement textbooks, materials, uniforms, and badges—everything he needs to continue in the program.
"Mario's actions epitomize the core values of nursing; to protect others from harm," said Superintendent/President David Wain Coon. "He is a dedicated student who exemplifies incredible integrity and the College is proud to recognize his bravery."

About College of Marin
Established in 1926, College of Marin remains committed to educational excellence, providing equitable opportunities, and fostering success in all members of its diverse community. With campuses in Kentfield and Novato, students of all ages have affordable access to an exciting variety of credit and noncredit courses as well as community education classes for lifelong learning. College of Marin is one of 114 public community colleges in California and approximately 13,000 credit, noncredit, and community education students enroll annually.
College of Marin is accredited by the Accrediting Commission for Community and Junior Colleges, Western Association of Schools and Colleges, 10 Commercial Boulevard, Suite 204, Novato, CA 94949, (415) 506-0234, an institutional accrediting body recognized by the Council for Higher Education Accreditation and the U.S. Department of Education.