March 9th, 2021 - 10:50am
This is our first In-depth Look into the many services College of Marin's (COM) Umoja program provides students. It is a part of our year-long series on COM Umoja.
Find our first story here.
Join us in 2021 to explore how COM's Umoja program empowers students, promotes unity, and builds community and equity.
Umoja Learning Cohorts
COM freshman D'Vonne Rosas was sitting in the counseling office waiting for her appointment during her first semester in fall 2017, when COM Umoja Counselor, Troy Stevenson quickly walked past her and into his office. He abruptly came back out and slid an Umoja pamphlet to her, saying, "you need to go to that room" before disappearing back into his office.
Rosas curiously picked up and read the pamphlet about Umoja. Even though she became socially anxious around crowds, she decided she would check out Umoja with the plan to leave if too many people were there.
She went to the Umoja office area, a space COM Umoja call the Village. It was a Tuesday morning when they offered breakfast to anyone who signed in. Nequeshé Dyer, an Umoja Student Assistant at that time, greeted her and explained how Umoja worked.
"That was when I was thrown into the mix of how magical Umoja was. I met Nequeshé, Troy, (Umoja Counselor) Rinetta Early – all of these awesome people who wanted me to express myself and be more open with people. I was like, no, I'm not ready for that! But I was already a part of the English 120AC, the accelerated course of an Umoja cohort class. That's when Troy said I needed to also sign on for his counseling class and it all started to fall into place."
Rosas began meeting other students in her cohort and building relationships with her classmates and instructors.
"I started meeting more people, seeing more faces and knew more people on campus, and I noticed they started to notice me," recalls Rosas.
She was becoming part of a community of people who were actively engaged in helping her succeed. She was, in turn, helping other students. She started recruiting students, who weren't in Umoja yet, to join. She was passionate about how much the program helped her. Umoja started providing her with the confidence to talk with others, form groups of friends, and thrive in many social settings.
"I would say to my friends, 'let's go to Umoja, this magical place where we can all do homework!' It was just this awesome thing to have. I tried to be the person that would bring more people. I know of that fear and uncertainty of being in a new place or being around all these new faces, where you don't know people. It came that I would seek out those people, those other me's in the crowd. 'Come, let us talk!'"
The following year, she was asked to be an Umoja Student Assistant, a peer-mentor, to further her engagement with supporting fellow students, helping many find their voice and their confidence in navigating the uncertainties of college.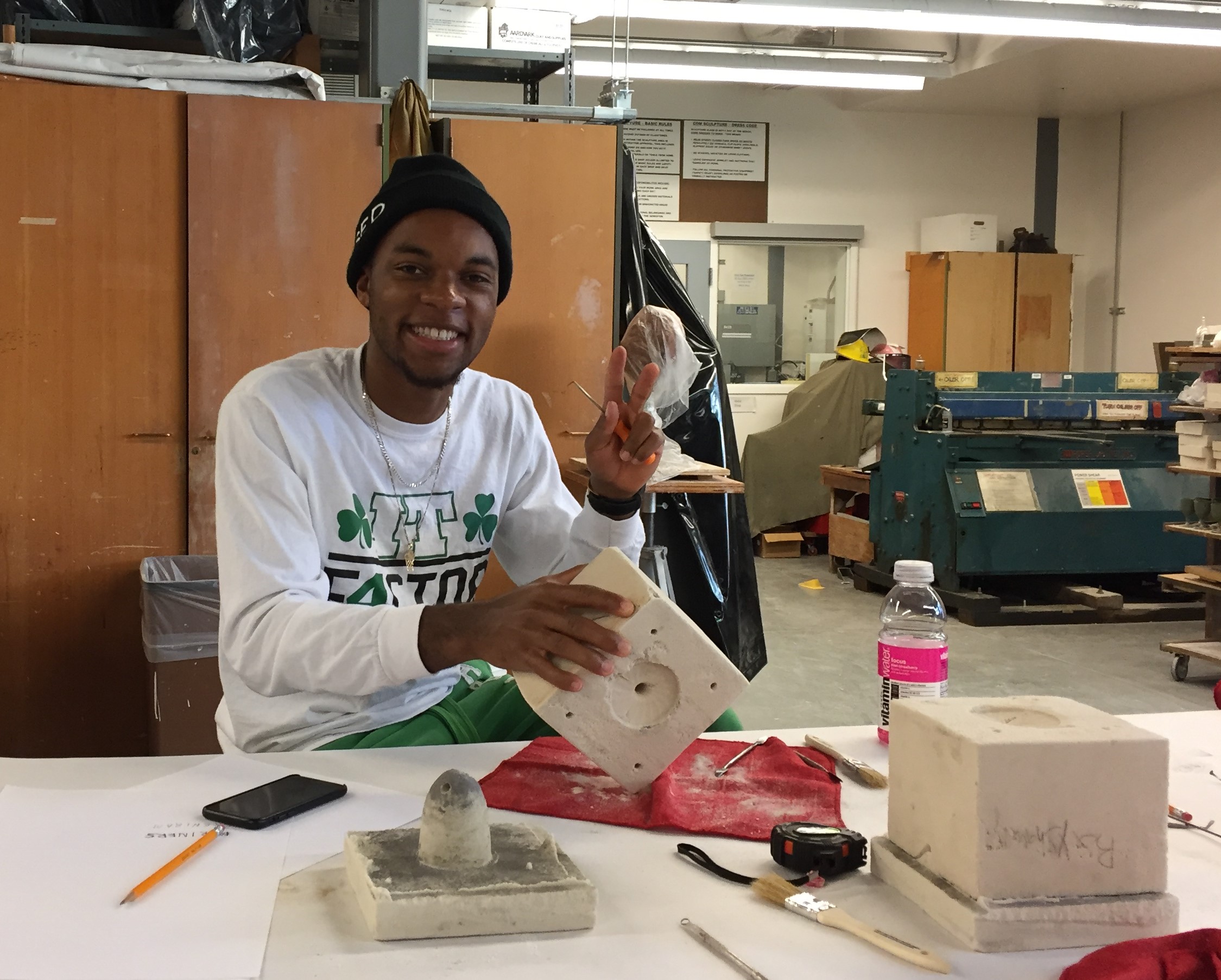 Photo: Umoja Student Assistant, RJ Cutkelvin, in the COM Umoja Learning Cohort course: Wilderness, Social Justice and You.
What is a Learning Cohort?
The concept of learning cohorts in American education has been around for over a century. A learning cohort provides students with similar backgrounds or interests an opportunity to enroll in classes together, with embedded support services along the way. This format allows students to get to know each other, learn from each other, and support each other. This environment also provides faculty with a platform to go in-depth into specific topics. It allows students to feel more connected to what is being taught. When paired with built-in support services, a learning cohort helps students succeed.
COM Umoja's learning cohort began in 2015 when Dean of Education Success Programs, Tonya Hersch, who at that time was an English instructor, began teaching an Umoja English class. It was paired with Umoja Counselor Troy Stevenson's college counseling class.
Umoja counseling classes provide students with knowledge on how to navigate college and are taught by a counselor who is always on hand to guide and help students. The instructor, who knows what is being taught in the Umoja English class, can help students form study groups and assist students with the content of that class.
When the statewide Umoja Community began in 2006, one of its founding principles was to help colleges incorporate a curriculum and atmosphere that was "responsive to the legacy of the African and African American Diasporas."
For this reason, the statewide Umoja program promotes learning cohorts and having a place on campus specifically for Umoja students to come together. Students who enroll in the Umoja English cohort course learn topics that are relevant and of interest to them, studying African American innovators, authors and historians. 
Learning cohorts also facilitate the formation of study groups; students are studying the same topics at the same time and forming lasting bonds. The Village space allows students enrolled in cohort classes to study together.
Dawud Zafir-Anderson, an Umoja Student Assistant explains, "The fact that we have the Village space is extremely important, because it has been the first place in any academic situation I've been in that I felt like I could open up and step up and really speak what was true for me and what I understood and have that listened to."
Today, the COM Umoja cohort is a yearlong succession of courses which begins in the fall semester with a unique Humanities course called Wilderness, Social Justice and You. This transfer-level course has students exploring multiple disciplines through themes, such as music, wilderness, activism, sports, culinary arts, etc., all with an overarching lens on social justice. Within this setting, students develop the skills needed to succeed in college across disciplines. This course is paired with a career and life skills counseling course. During spring semester, students enroll in a transfer-level English course on reading and composition paired with a counseling course on how to successfully transfer to a four-year institution.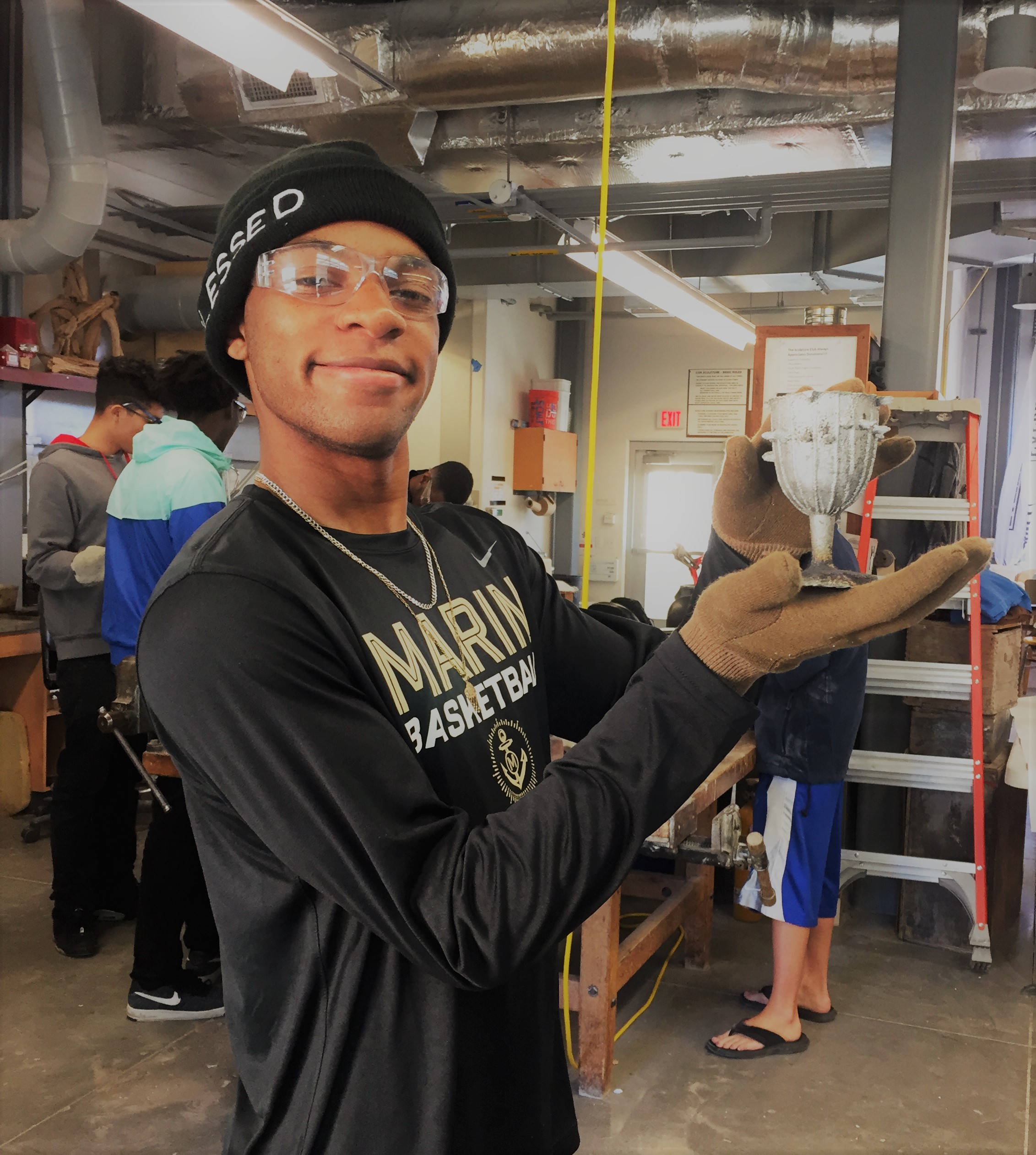 Photo: Umoja Student Assistant, RJ Cutkelvin holding the finished chalice for his Humanities course.
Spring 2021 is Rosas's final semester at COM before she transfers to a four-year university.
Rosas adds, "Over time my anxiety and uncertainty began melting away. Not to say I don't have my social anxieties, but Umoja has definitely helped ebb away a lot of those first few layers. It's been such an amazing time with them. I don't what I'm going to do when I leave. Wherever I transfer, I have to figure out if they have an Umoja, because if not, I'm going to have to start one. It all started with Troy gliding me the (Umoja) pamphlet – he's one of those awesome people everyone should meet. It just all fell into place from there and I love it."
Discover how COM's Umoja Community can help you succeed.
To support the COM Umoja program, please donate. All donations go directly to the program and student scholarships and are tax-deductible.