February 23rd, 2021 - 8:33am
This is the first student spotlight story in our year-long series on College of Marin's (COM) Umoja program.
Join us in 2021 as we explore how COM's Umoja program empowers students, promotes unity, and builds community and equity.
Student Spotlight: d'Artagnan Connor III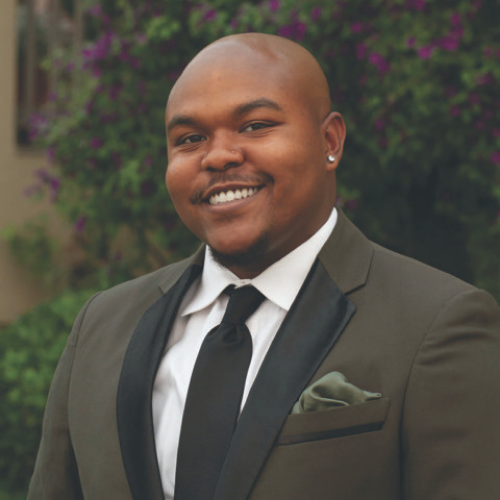 In fall 2015, d'Artagnan Connor III wanted to go to UCLA's business school and decided to take his first two years at a community college. He had recently graduated from Salesian College Preparatory High School in Richmond, CA, and didn't want to go to a nearby college where he would know most of the people. His father thought he should give COM a try, as it was just across the Richmond-San Rafael Bridge.
Connor enrolled in COM and, like everyone else at that time, was required to take placement assessments* in math and English to gauge which levels to start in.
"I was skimming through the placement tests and ended up in a really low-level math and English at the time," Connor remembers. He wasn't expecting that since he went to Salesian. "I took the math test again and placed higher. The English I was placed into just so happened to be Dean Tonya Hersch's very first Umoja class ever."
COM's Umoja learning community officially started that fall 2015. COM Umoja has evolved to support students in three main areas. It provides a robust leadership program, an academic learning cohort where a group of students take English and counseling classes together, and a mentorship program that's both peer-to-peer and faculty/staff-to-student. The program now offers scholarships to support students transferring to a four-year institution. It has engaging and culturally relevant webinars and speaker series on topics, such as self-advocacy, mental health, activism, financial management, and parenting. It also works with local high schools to prepare students for college success.
In Dean Hersch's Umoja cohort English class, Connor saw college become relevant for the first time. Hersch incorporated stories about African American innovators, professionals, and historic figures and worked those stories into syntax exercises and composition assignments, making the course engaging, contemporary, and relatable.
That's how Connor found himself in COM Umoja.
After Dean Hersch's English class, his learning cohort went into a counseling class taught by Umoja Counselor, Troy Stevenson, where they discussed how the college system worked and how to be successful within that system. This course, along with the program's faculty and staff, helped him navigate college successfully so he could complete his undergraduate studies within three years.
"Once I got into the Umoja program and started getting that support, it was a seamless process," says Connor. "They are great at supporting you while trying to keep you accountable, but also understanding of what you're going through without being overbearing. I felt they were really good at making sure things were in place to help you succeed. It's just a great program."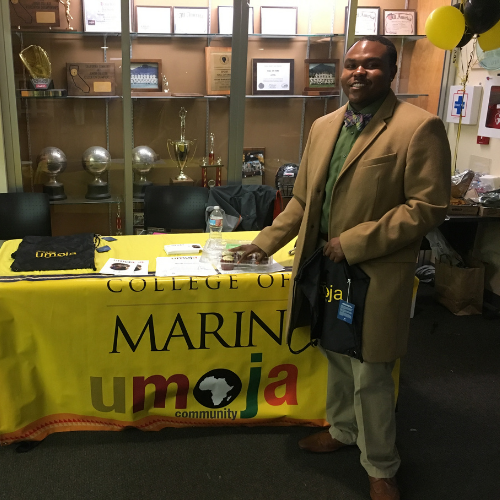 Connor began a desserts business a couple of months into his first semester to help fund his education. "It's called Deezerts - one slice may change your life!" Connor smiles. He sold enticing 7-up cupcakes, pies, raspberry swirl cheesecakes, and everyone's undeniable favorite, red velvet cupcakes, among other amazing desserts. "I would show up with a suit and tie to sell them. They supported me like crazy."
He connected with Umoja faculty and staff who noticed his inherent leadership skills. He developed relationships with most of COM's administrative staff. Counselor Stevenson noticed his charismatic personality and asked Connor to talk with others about his experience with Umoja, such as Marin County's high school counselors.
"People wanted to hear my story," Connor says. "I am not afraid to talk if you give me the opportunity. The Umoja staff put me in great positions to help me with my leadership skills. If I felt intimidated, they helped me become who I really am. For those years going from high school to college, I had to find my stride. They did a great job of helping me grow during that time."
Connor spoke at his graduation in May 2018, "It was right before I turned 21. It went from the Umoja graduation to the COM graduation and my birthday a few days later. During that period, life was looking great. I was so juiced. I was emotional. I was happy, because even to graduate from COM was a struggle. Those three years, it was hard from the first day to get things situated. My experience became better after I met the Umoja staff, but it was a struggle. They kept me motivated to keep going."
Connor developed his transfer plan with Stevenson, his dedicated counselor. UCLA's business program required three semesters of Calculus that Connor didn't have yet, but he met the requirements to go to just about any other UC or CSU. He transferred into Cal State Dominguez Hills' business program.
In February 2020, Connor took a break from college, and decided to visit his COM family with mentors Umoja professor Walter Turner, Hersch, and Stevenson. The pandemic began soon after, and they gave him a short-term job contacting hundreds of students to see if students had what they needed to learn remotely. It helped Connor get back on his feet and ready for his next move.
"To this day they are still helping me. It was one thing to see what COM Umoja looked like at the beginning, because they were creating it when I was there. They were hitting the ground running which was perfect. Seeing it now, they are a well-oiled machine – a true start-up!"
While sheltering in place, he realized he needed to salvage his independence and find his own start-up. The previous summer, he thought about starting a child daycare center because of how much he enjoyed taking care of children and connecting with his community. He started paying more attention to local real estate so he could eventually buy his own daycare center.
This experience led him to become a real estate agent, where he received his real estate license in September 2020. He is passionate about his new career and works with a marketing consultant to build his brand around the Bay Area.
Connor discovered he could become a broker sooner with a bachelor's degree, so he began taking his last remaining college classes online. He will graduate with his bachelor's in business from CSU Dominguez Hills in May 2021.
His Deezerts business is also thriving, with weekend pop-ups and deliveries around Richmond and the Bay Area. "I'm all about following your passion. Take a chance if you have an opportunity. I'm going to take mine!" Connor adds – a true entrepreneur.
Discover how College of Marin Umoja Community can help you succeed at marin.edu/umoja.
To support the COM Umoja program, please donate. All donations go directly to the program and student scholarships and are tax-deductible.
Get caught up on the series:
Umoja Unity, Umoja Community (February 8, 2021)
Tuesday Breakfasts with Umoja (February 16, 2021)
* Placement assessments were used at all of California's community colleges to assess where a student should be placed in math and English. Studies found these assessments were biased and placed an undue burden on the student to prove they would be successful in transfer-level classes. Because of this,
California Assembly Bill 705
was signed into law January 2018. It requires all California community colleges to use evidence-based documents, such as student transcripts and grade point average, to assess which math and English classes a student should be enrolled in, placing the burden of proof on the college instead of the student. Further information about AB705 can be found at the
California Community College Chancellor's Office website
.