February 3rd, 2020 - 1:11pm
Please see the information from Marin County Public Health Officer Dr. Matt Willis related to health risks associated with fentanyl. (PDFs are transcribed below). In 2019, there were 13 fentanyl-related overdose deaths in Marin County, more than all prior years combined. This information highlights the increased availability of fentanyl as an ongoing threat to public health and safety. (información en español abajo)
Fentanyl Letter to Schools in English (PDF) 
Carta de fentanilo a las Escuelas en español (PDF)
Fentanyl Overdose Risk Health Alert
This letter is to inform you about the increased availability of fentanyl as an ongoing threat to public health and safety. In 2019, there were 13 fentanyl-related overdose deaths in Marin County, more than all prior years combined. Similar increases are being seen regionally.
Fentanyl is an opioid drug that is 80 to 100 times more potent than morphine and 40 to 50 times more potent than heroin. Some fentanyl overdoses occur among people who are aware that they are using fentanyl. However, an increasing number of fentanyl overdoses occur among persons using other substances, including cocaine, methamphetamine and counterfeit pills resembling Percocet, Xanax, and others.
Overdose victims may have been unaware of the emergence of fentanyl-laced compounds in the Bay Area drug supply and of the powerful potency of fentanyl. In Marin County, most people who died from fentanyl overdoses had ingested multiple substances. Alcohol, cannabis, stimulants and other sedatives are commonly found in toxicology reports related to fentanyl overdose.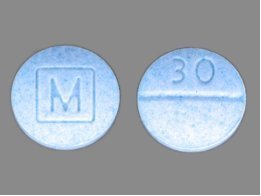 Counterfeit Percocet containing fentanyl
How You Can Help
Talk with your children and alert them to the current risk. Remind them to only take pharmaceutical pills prescribed by their physician, and only take them as directed. Do not share or sell medicines and do not buy medications not prescribed to them. When in doubt about a pharmaceutical, reach out and ask your doctor.
If you think a loved one is experiencing challenges with substance misuse and abuse contact the 24/7 Mental Health and Substance Use Access and Assessment Hotline (888-818-1115). Additional resources in different languages can be found at www.MarinHHS.org/Substance-Use-Services.
Clean out your medicine cabinet regularly. Dispose of unused and expired medications at one of Marin County's safe disposal locations. Visit www.RxSafeMarin.org to find a location near you.
If you're concerned someone in your life may be at risk for an opioid overdose, carry the overdose reversal medication naloxone (Narcan). Narcan is available without a physician prescription at most pharmacies in Marin. In the next couple of months, RxSafe Marin will be hosting free community naloxone trainings. Email RxSafeMarin@gmail.com for training updates.
Thank you for joining us to protect our community.
Sincerely,
Matthew Willis, MD, MPH
Public Health Officer
MWillis@marincounty.org
Mary Jane Burke
Marin County Superintendent of Schools
mjburke@marinschools.org
Alerta de riesgo de sobredosis de Fentanyl
Esta carta es para informarles sobre la mayor disponibilidad de Fentanyl como una amenaza continua para la salud y la seguridad pública. En 2019, hubo 13 muertes por sobredosis relacionadas con Fentanyl en el condado de Marin, más que todos los años anteriores combinados. Se observan aumentos similares a nivel regional.
Fentanyl es un medicamento opioide que es de 80 a 100 veces más potente que la morfina y de 40 a 50 veces más potente que la heroína. Algunas sobredosis de Fentanyl ocurren entre personas que saben que están usando Fentanyl. Sin embargo, un número creciente de sobredosis de Fentanyl ocurre entre personas que usan otras sustancias, como cocaína, metanfetamina y píldoras falsificadas que se asemejan a Percocet, Xanax y otras.
Las víctimas de sobredosis pueden no haber sido conscientes de la aparición de compuestos unidos al Fentanyl en el suministro de drogas del Área de la Bahía y de la poderosa potencia del Fentanyl. En el condado de Marin, la mayoría de las personas que murieron por sobredosis de Fentanyl habían ingerido múltiples sustancias. El alcohol, el cannabis, los estimulantes y otros sedantes se encuentran comúnmente en los informes de toxicología relacionados con la sobredosis de Fentanyl.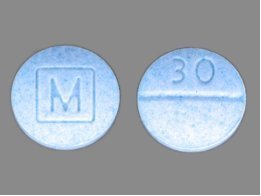 Percocet falsificado que contiene Fentanyl
Cómo puede usted ayudar
Hable con sus hijos y avíseles sobre el riesgo actual. Recuérdeles que solo tomen píldoras farmacéuticas recetadas por su médico, y solo tómelas según las indicaciones. No comparta ni venda medicamentos ni compre medicamentos que no le hayan recetado. Cuando tenga dudas sobre un producto farmacéutico, comuníquese con su médico. 
Si cree que un ser querido está experimentando desafíos con el abuso y abuso de sustancias, comuníquese con la Línea directa de acceso y evaluación de salud mental y uso de sustancias las 24 horas del día, los 7 días de la semana (888-818-1115). Se pueden encontrar recursos adicionales en diferentes idiomas en www.MarinHHS.org/Substance-Use-Services.
Limpie su botiquín regularmente. Deseche los medicamentos no utilizados y vencidos en uno de los lugares de eliminación segura del Condado de Marin. Visite www.RxSafeMarin.org para encontrar un lugar cerca suyo.
Si le preocupa que alguien en su vida pueda estar en riesgo de una sobredosis de opioides, lleve el medicamento de reversión de sobredosis naloxona (Narcan). Narcan está disponible sin receta médica en la mayoría de las farmacias en Marin. En los próximos meses, RxSafe Marin organizará entrenamientos comunitarios gratuitos sobre naloxona. Email RxSafeMarin@gmail.com para actualizaciones de entrenamientos.
Gracias por unirse a nosotros para proteger nuestra comunidad.
Atentamente,
Matthew Willis, MD, MPH
Oficial de Salud Pública
MWillis@marincounty.org
Mary Jane Burke
Superintendente de Escuelas del Condado de Marin
mjburke@marinschools.org