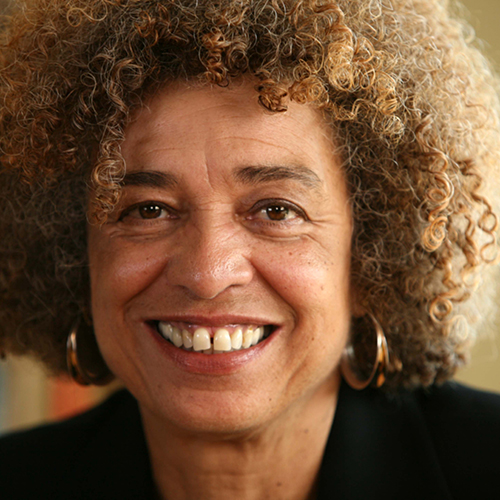 The College of Marin Umoja program is honored to welcome renowned civil rights activist, feminist, and scholar Dr. Angela Davis to the James Dunn Theatre on Thursday, March 28.
Deeply involved in fighting for social justice, Dr. Davis is especially concerned with the devotion of resources and attention to prison systems rather than to educational institutions. She is a founding member of Critical Resistance, a national organization dedicated to the dismantling of the prison industrial complex. Through her activism and scholarship, Davis' recent work has focused on the social problems associated with incarceration and the generalized criminalization of communities most affected by poverty and racial discrimination.
Dr. Davis has spent the last 15 years at UC Santa Cruz where she is a distinguished professor emerita of history of consciousness, an interdisciplinary Ph.D. program, and of feminist studies. She also taught at San Francisco State University, Mills College, UC Berkeley, UCLA, Vassar, the Claremont Colleges, and Stanford University.
In addition to her work as an educator, Dr. Davis is a well-respected author. She has authored nine books, with her most recent being Freedom Is a Constant Struggle: Ferguson, Palestine, and the Foundations of a Movement. This collection of essays, interviews, and speeches illuminates connections between liberation struggles and oppression.
Dr. Davis has conducted extensive research in areas related to race, gender, and imprisonment. Internationally, she is affiliated with Sisters Inside, an Australia-based abolitionist organization that works in solidarity with women in prison.
This event is free and open to the public. Registration will open Monday, March 11, at 5 p.m. and is required for everyone over the age of two. (No backpacks or large bags are allowed in the theater; all bags are subject to search.)
Thursday, March 28
5 p.m. – 7 p.m. (reception to follow)
Performing Arts Building, James Dunn Theatre
Kentfield Campus
Register online through Eventbrite
Please be advised that classes are in session during this event and parking may be limited. Lots P12, P13, and P15 will likely have the most room. Most lots are a short distance from the theater, but be prepared to walk across campus. Accessible parking locations are noted on the campus map. There is a drop-off zone with a ramp near the theater entrance in Lot P3. Carpools are highly encouraged. Free parking for this event is available after 4:30 p.m. on a first come, first served basis in Lots P2 and P12; Lot P13 is always free.   
A suggested donation of $20 is greatly appreciated and directly supports scholarships for COM Umoja students. Donations can be made at the event or online (please specify Umoja from the gift designation drop-down menu).
About Umoja
College of Marin's Umoja program is a community of educators and learners committed to the academic success, personal growth, and self-actualization of African-American and other students. Umoja (a Kiswahili word meaning unity) seeks to educate the whole student—body, mind, and spirit. Informed by an ethic of love and its vital power, the Umoja Community will deliberately engage students as full participants in the construction of knowledge and critical thought.

About College of Marin
Established in 1926, College of Marin remains committed to educational excellence, providing equitable opportunities, and fostering success for all members of its diverse community. With campuses in Kentfield and Novato, students of all ages have affordable access to an exciting variety of credit and noncredit courses as well as community education classes for lifelong learning. College of Marin is one of 115 public community colleges in California and approximately 13,000 credit, noncredit, and community education students enroll annually.    College of Marin is accredited by the Accrediting Commission for Community and Junior Colleges, Western Association of Schools and Colleges, 10 Commercial Boulevard, Suite 204, Novato, CA 94949, (415) 506-0234, an institutional accrediting body recognized by the Council for Higher Education Accreditation and the U.S. Department of Education.