Jack Morken – Baseball Journeyman to West Point Transfer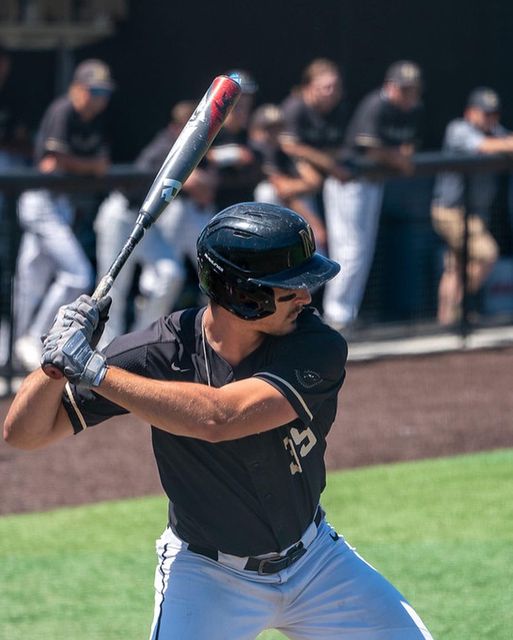 This year, College of Marin's (COM) baseball team broke the College's 1985 record of 37 team home runs to 47 set by the 2022 team. Recent COM graduate Jack Morken contributed with five of those home runs, tying for the third highest home run record on the team.
The team even made it to the state championships. "We played the number six team in the country, Ohlone College," recalled Morken of the playoff series. "We took them to three games. We won the first and lost the second in an 11-9 loss. Then in the third game we fell apart, but it was an absolute dogfight. Since our team set the single season homerun record as a team collectively, we had multiple guys who were just power-house hitters. It was such a fun team to be a part of. It felt like every game, there were two or three absolute moon shots over the fence."
Along with his five home runs this year, Morken had 87 at bats with a .253 batting average and a .506 slugging percentage. Thanks to his talent at the plate, his desire to serve his country, and COM Baseball Coach Steve Berringer initiating an introduction to the college, Morken will be transferring to the United States Military Academy (USMA), also known as West Point, in late June for basic training.
It's an unexpected dream come true, as all of this wouldn't have happened if the pandemic hadn't put the world on a completely different trajectory. Morken, who grew up in Tiburon, had been playing baseball for as long as he could remember. It was at Redwood High School in Larkspur where he realized he had the physical capabilities to excel in the sport and pursue it at a college level. That's when he began working tirelessly, honing his skills to become a reliable designated hitter.
His commitment paid off. After graduating high school, he was offered a spot on Monmouth University's baseball team in New Jersey. It was during his sophomore year playing for Monmouth in the Division I Metro Atlantic Athletic Conference when COVID-19 severely altered collegiate sports around the country.
With everything shutting down, Morken decided to come home and attend COM as a student athlete. "I just decided it was better for me to go back home and go to the community college to continue to build up my baseball skills. Then I'd try my luck again at the recruiting process," recalls Morken. "As you know, that worked out pretty well."
At COM, Morken was able to continue sharpening his batting proficiency with the help of Coach Berringer while majoring in administrative justice. Over his two years at COM, he found his Race and Ethnicity course with Professor Marco Gonzalez one of the most thought-provoking courses he took. "It was learning about racial and ethnic structures and the society that America is built on," conveyed Morken. "It was a pretty fascinating class that led to a lot of deep thinking about some really, really broad concepts."
His last semester, Morken took American Political Institutions with Professor Yolanda Bellisimo to help him prepare for West Point. "That was just a fun class, because I got to learn about the structure of our government and the history of our country in a pretty well-informed way," Morken said. "Professor Bellisimo is probably one of the smartest professors I've ever had. I feel way more confident now than I had before on understanding how our government is structured after taking that class."
"I think the education at COM was on par with any major university," Morken added, "because back at Monmouth, I had some very high-level professors. When I came back home to COM, I really didn't see a huge difference in the academic curriculum. I felt that some of my most-favorite and most-informed classes were at COM, not at Monmouth. I think it just speaks to the fact that COM is one of the best in terms of academics and in terms of what I've learned through the years of being a student athlete. Because that's another aspect of being a college baseball player; it's not only the academics, but obviously, it's the baseball, too."
That's where Coach Berringer came in. "He was definitely one of the best coaches I've ever had," stated Morken. "I think he's one of the smartest coaches I've ever had, too. I've learned so much from him. I'm definitely going to miss him as a coach. He helped me so much to get to the next level, which is part of the gig as a junior college coach. Not only do you want to develop players and have great relationships with them, but you also want to get them to the next level. As I see it, he couldn't have done it any better for me. I'm forever grateful for what he's done for me."
While his goal in playing baseball was to get to the Division I collegiate level—which he has done now twice, Morken also knew that at some point he was going to serve his country. "I've always been really inspired by those who serve our country, especially those in the elite forces. Since high school, I knew that was what I wanted to do. I talked with Coach Berringer about my plans, and he reached out to the Army for me, basically saying, 'This kid wants to serve his country after he's done. You should take a look at him to see if you feel he's good enough to play there.'"
After receiving an invitation from West Point's baseball staff, Morken visited the campus and participated in a baseball camp where he got to talk with the coaches. He was soon offered the chance to play baseball for the Army. "They felt that I could make a difference in their program," Morken said. "I decided to take them up on their offer. I probably would have regretted it if I hadn't taken that opportunity. Now I get to go play baseball at West Point, and after that start my service for the United States."
Since West Point requires all new and transfer students to start from the beginning, 21 year-old Morken will be headed to the New York college as a freshman, for the third time, alongside mostly 18 year-olds. "I'm a journeyman, as they say," he explains of his third time starting a new college. He plans to major in law studies and will train to become a second lieutenant by the time he graduates. Tuition is free at West Point, as each graduate is expected to serve in the Army for five years after college. The way Morken sees it, going to USMA "is basically a job opportunity. At the end of the day, you're working toward a job, not just a degree."
"I've always wanted to serve my country. I'm not exactly sure what I'll do after that. For now, I want to just go through the college experience of West Point, and maybe find a new hobby, check out the Army Rangers, or maybe take a shot at the Green Berets. You have to go through a selection process, but I think that would be a really cool job that I could look forward to."
"For now, I've been blessed with the opportunity to have a second chance of playing really high-level college baseball and especially to play at probably the hardest school in the world—West Point."