August 8th, 2023 - 5:34pm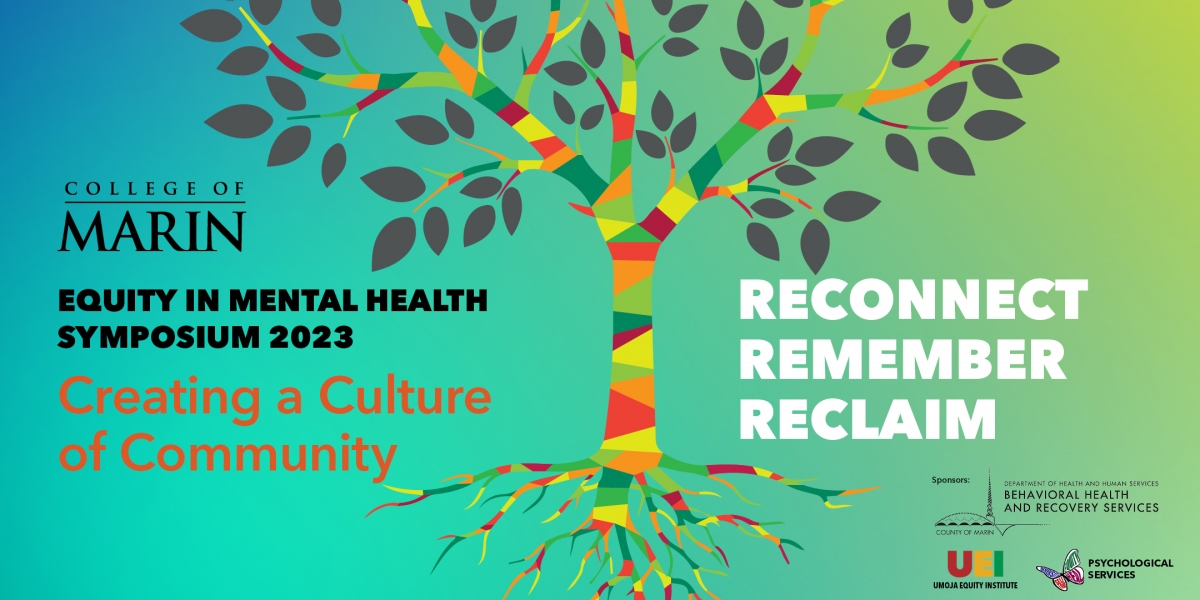 KENTFIELD, CA—College of Marin (COM) Psychological Services and Umoja Equity Institute are gearing up to host the second Equity in Mental Health Symposium in partnership with County of Marin Behavioral Health and Recovery Services next week at the Kentfield Campus. The two-day program continues last year's inaugural themes of connecting with ancestral wisdom, the power of nature, culturally responsive pedagogy, healing, and mental health to create a culture of community rooted in equity. 
"This work is a labor of love and direct response to a recognized need for individual and collective care with a priority placed on addressing the mental health needs of communities of color. We're acknowledging the structural and system inequities that have caused trauma and harm, and we are creating space to amplify voices that are often not at the table," says Director of Student Accessibility and Psychological Services Stormy Miller Sabia. "This symposium provides an opportunity to heal, rest, reimagine, and embrace one another through communal care." 
Featuring a diverse group of leaders in mental health, participants will engage in resource sharing and community building as well as roundtable discussions and hands-on activities to learn new ways of healing our communities. 
"Our symposium continues the important work of gathering faculty, staff, and community together to forge something new, to reimagine a new way. This is an ongoing process that invites imperfect returning to this critical work," said Aneissa Rosas-Sanchez, Mental Health Counselor in Psychological Services. "This is an invitation and call to co-create space for ourselves and for one another. It's in the being with and re-imagining that change will emerge." 
Speakers include Dr. Joshua Moon Johnson, speaker, consultant, trainer, educator, and author of Beyond Surviving: From Religious Oppression to Queer Activism; Dr. Kevin Cokley, University Diversity and Social Transformation Professor of Psychology at the University of Michigan and author of Making Black Lives Matter: Confronting Anti-Black Racism; and Gloria Lucas, creator of Nalgona Positivity Pride (NPP), a groundbreaking grassroots movement dedicated to meeting the unique needs of Black, Indigenous, and communities of color (BICC) affected by eating disorders. 
The symposium is open to the public and will be especially beneficial to those in the fields of education, mental health, mentoring, behavioral health and recovery, psychology, art, integrative medicine, restorative justice, social and youth services, local government, and individuals with lived experience. 
"The upcoming Equity in Mental Health Symposium is an excellent opportunity for educators, faculty, and community to engage and exchange on one of the most pressing themes of this moment in history—building authentic equity and prioritizing mental health support strategies," says Social Sciences Professor Walter Turner. "The symposium is a showcase of diverse strategies on building community and authentic equity rooted in mental health. This is a conference for empowerment…be there!" 
Equity in Mental Health Symposium
August 17 and 18
9 am – 3:30 pm
Kentfield Campus
835 College Avenue, 94904 
Find out more and register at https://www.equityinmentalhealth.net/home.