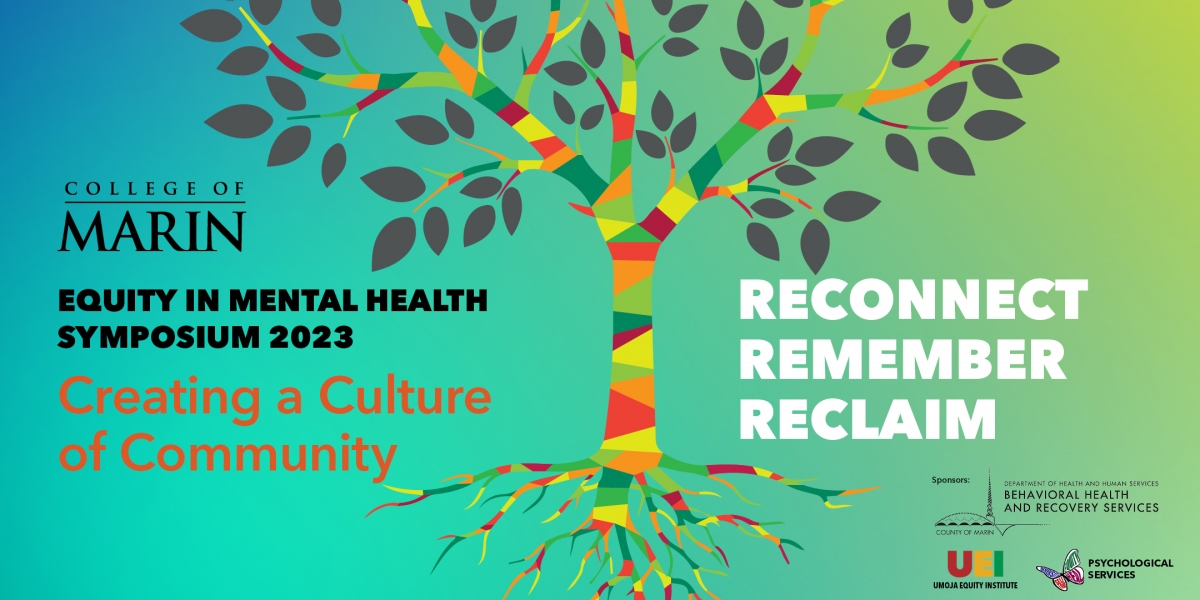 Equity in Mental Health Symposium 2023
Creating a Culture of Community
Reconnect, Remember, Reclaim
August 17 and 18, 2023
9 am — 3:30 pm
Kentfield Campus
835 College Ave.
Kentfield, CA 94904
Open to public. Registration Required. One and two-day tickets are available. This is an in-person event only. Lunch will be provided both days.
Join us for the second annual College of Marin Equity in Mental Health Symposium as we tap into ancestral wisdom, the power of nature, culturally responsive pedagogy, healing, and mental health to create a culture of community rooted in equity.
Featuring a diverse group of leaders in mental health, participants will engage in hands-on activities in preparation for the upcoming academic year. The symposium is open to the public and specifically designed for those in the fields of education, mental health, mentoring, behavioral health and recovery, psychology, art, integrative medicine, restorative justice, social and youth services, local government, and more.
For the symposium schedule and speaker bios, please visit the Equity in Mental Health Symposium website.
Questions? Email umoja@marin.edu
Individuals seeking access support or reasonable accommodations to attend campus activities and events may contact the Student Activities and Advocacy Office, (415) 485-9376.
---
Sponsors:
College of Marin Psychological Services, Umoja Equity Institute, Marin County Department of Health and Human Services's Behavioral Health & Recovery Services.