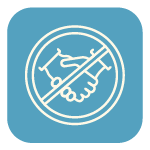 Help prevent the spread of respiratory diseases like COVID-19 by following simple, time-tested hygiene habits.
Therapeutic treatments for COVID-19 are available. Don't delay seeking treatment; medicines must be used soon after symptoms begin.
---
Updated January 17, 2023
Everyone coming on campus is expected to follow public health guidelines.
Stay home when you are sick, except to get medical care.
Face Coverings Strongly Recommended
COM is mask friendly; be kind and respect the choices of others.
Face coverings are strongly recommended in common indoor spaces.
Maintain Good Hygiene
Don't shake hands or engage in any unnecessary physical contact.
Stay at least 6 feet from other people.
Cover your cough or sneeze with a tissue, then throw the tissue in the trash and wash your hands.
Wash your hands often with soap and water for at least 20 seconds.
Do not touch your eyes, nose, and mouth.
Clean and disinfect frequently touched objects and surfaces.
Fever or chills
Cough
Shortness of breath or difficulty breathing
Fatigue
Muscle or body aches
Headache
New loss of taste or smell
Sore throat
Congestion or runny nose
Nausea or vomiting
Diarrhea
If you are experiencing any symptoms of COVID-19, do not come to campus.
Seek emergency medical care immediately if you have:
Trouble breathing
Persistent pain or pressure in the chest
New confusion
Inability to wake or stay awake
Bluish lips or face
Dial 911 or call ahead to your local emergency facility.
If you are experiencing symptoms of COVID-19 and are uninsured call Marin County Public Health Department (415) 473-4163.
---
Therapeutics: Test-to-Treat
Sick with COVID-19? Treatments are available if you become ill. A health care provider may determine you are eligible for treatment. Do not delay seeking treatment for COVID-19, as these medicines must be used soon after symptoms begin.
Find out more about therapeutics through Marin HHS.
---
Are You At Higher Risk for Severe Illness?
Do I need to take extra precautions?
Some people are more likely than others to become severely ill, such as older adults and those with certain medical conditions. Take a look at your individual situation and where you live for factors that mean you might need to take extra precautions against COVID-19.
If you are at higher risk for serious illness, you should take extra precautions to protect yourself:
Stay home. It's the most important thing you can do.
Avoid contact with people who are sick. Isolate anyone sick in your home in a separate room, if possible.
Get food brought to your house through family, social, or commercial networks. Wipe off containers with disinfectant wipes.
Listen to public health guidance. They may recommend community actions to reduce exposure in times of local outbreak.
Stay Informed
Find Family and Friends Caregiver Resources from the California Department of Aging, including guidelines to protect both you and your loved ones from COVID-19. Read how to Prepare for a Public Health Emergency (PDF) from Listos California.
---
Testing
COVID-19 testing options are available through medical providers, self-referral sites, and at-home testing options. If you are experiencing COVID-19 symptoms, immediately contact your medical/healthcare provider, primary physician, or local medical clinic for guidance regarding testing. Determine which testing option is best for you.
Update January 17, 2023:
At-Home COVID-19 Test Expiration Dates Extended
The expiration dates for at-home QuickVue COVID tests provided by Marin County Public Health, have been extended four months. For example, those with expiration dates in February now expire in June. To confirm expiration dates, check the FDA handout: Quickvue At-Home OTC COVID-19 Test (fda.gov). In addition, the California Department of Public Health endorses the use of all FDA approved over-the counter COVID-19 Tests beyond their original expiration date. To ensure your at-home test has not expired, follow these three easy steps. One, take the test. Two, wait the allotted time per the test instructions. Three, watch the control line appear. The visible control line indicates a good test. If the control line is not visible after waiting the instructed time, then the test has likely expired.
---
At Home Care - Quarantine and Isolation Safety
COVID-19 can easily spread between people who are in close contact with one another. To help slow COVID's spread, protect vulnerable individuals, and prevent the healthcare system from being overwhelmed, it is necessary for people who have been infected to isolate, and people who have been exposed to a person who has an active COVID-19 infection will need to quarantine.
Quarantine and Isolation Guidance (English) | Cuarantena en Casa y Seguridad de Aislamiento (Español)
What to do if you are sick (CDC website)
Caring for yourself at home: 10 things to manage your health (English) | 10 cosas que puede hacer para manejar sus sintomas de COVID-19 en casa (Español)
---
Vaccinations
A COVID-19 vaccine is one of the most important tools to end the COVID-19 pandemic. A safe, effective, no-cost COVID-19 vaccine will be available to everyone in Marin County. Getting vaccinated, and boosted when eligible, can prevent you from getting the virus. It can also protect those around you from getting infected. Vaccinations combined with other daily health habits, like physical distancing, wearing masks, and washing hands, will help us return to a more normal way of life.
Marin County Vaccine Information
---
Mental Health and Wellbeing
If you are experiencing an emergency call 911.
If you are managing existing mental health conditions, you should prioritize self-care and reach out to your clinician if you have questions or concerns.
COM Psychological Services are available remotely via phone or Zoom for students who are currently enrolled. Services are free and confidential and include short-term therapy, consultation, crisis intervention, and referral. To schedule an appointment, please call and leave a message: (415) 485-9649
Employee Assistance Program (EAP)
Anthem's EAP Website is confidential information, support, and referral service offering tools and resources designed to help maximize productivity and meet the challenges of modern life. As an employer-sponsored program, EAP services are available to employees and their household members at no additional cost to them.
For access call (800) 999-7222 or visit: Anthem EAP (use "SISC" for company name)
---
Responsibility and Accountability
COM is mask friendly! In the interest of creating a culture where health and safety are promoted and realized, be kind and respect the choices of others.
Those who do not follow COVID-19 protocols may be subject to discipline from their supervisor (employees) or the Student Activities and Advocacy Office (students and student workers).
Individuals should first attempt to resolve concerns on their own.
For employees, supervisors/managers should be brought in if there is repeated non-compliance.
For students, student conduct/COM CARE should be contacted for repeated non-compliance.
While compliance is a personal responsibility, repeated refusal to comply with protocols should be handled through the appropriate channels.