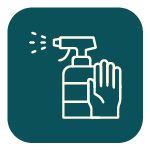 Reducing the risk of exposure to COVID-19 by cleaning and disinfection is an important part of our safety measures. Everyone has a role and responsibility in making sure our campuses are as safe as possible for opening and remaining open.
---
Updated May 10, 2023  
Thorough cleaning in high-traffic areas is performed regularly by Maintenance and Operations staff, along with disinfection in active areas; however, cleaning by staff is only part of an overall plan to keep our campus environment safe. Everyone has a role and responsibility!
Sanitizing supplies are provided to promote the personal hygiene of our students and employees. This may include tissues, no-touch trash cans, hand soap, adequate time for hand- washing, alcohol-based hand sanitizers, disinfectants, gloves, and disposable towels.
All Employees Must Complete Disinfectant and Sanitizer Training
Access the training through ProLearning on the MyCOM Portal home page. Search for the course titled "Coronavirus: Cleaning & Disinfecting Your Workplace (10 mins)." You can also search for this course by provider (College of Marin) and then locate the course title. Note that training course titles don't use COVID-19, they use coronavirus instead.
---
Availability of Cleaning and Disinfecting Supplies
We appreciate the vigilance of the campus community to ensure spaces are safe.
Maintenance and Operations has these supplies on hand. Supplies listed as out of stock will not be reordered as COVID funds for these purchases have been exhausted.
Hand Sanitizer Gel – plenty in stock
Surgical Masks (Blue Masks) – plenty in stock
Disposable Isolation Gowns (AKA Tyvek Suits) – plenty in stock
COVID-19 Rapid Tests – limited stock (About 400 left)
KN95 Masks – plenty in stock
 
Scented Sanitizing Wipes – OUT OF STOCK
N95 Masks – OUT OF STOCK
Unscented Sanitizing Wipes – OUT OF STOCK
Submit a SchoolDude request to order in-stock items. If a department requires something that is out of stock, the department will need to procure this item using their existing budget.
As a reminder, masks are strongly recommended for indoor spaces as this can help prevent the spread of viruses.
---
The virus that causes COVID-19 can be killed if the appropriate products are used. The Environmental Protection Agency (EPA) has compiled a list of disinfectant products that can be used against COVID-19, including ready-to-use sprays, concentrates, and wipes. Each product has been shown to be effective against viruses that are harder to kill than viruses like the one that causes COVID-19. Cleaning products currently being used by COM meet the Environmental Protection Agency (EPA)'s approved for use against COVID-19 list. Products used include:
Waxie # 710 Multipurpose Disinfectant cleaner EPA registration # 1839-167-14994,
Waxie # 700 Disinfectant Cleaner EPA registration # 1839-166-14994,
Oxivir Disinfectant cleaners EPA registration # 70627-60, and
Waxie # 730 EPA registration # 45745-11-14994.
Custodial crews will continue to clean offices, workspaces, classrooms, and public spaces based on protocols developed with Centers for Disease Control and Prevention (CDC) guidance in mind; employees should take additional care to wipe down commonly used surfaces after use.
MERV 13 filters have been installed in HVAC systems where possible. Portable filtration units have been deployed to all classrooms being used spring semester, and to office spaces as requested. 
Sanitation stations will be made available for employees, students, and visitors and will stay operational and stocked at all times and additional soap, paper towels, and hand sanitizer are supplied when needed.
Hands-free devices, including motion sensor lights and automatic soap and paper towel dispensers, have been installed in some locations.
Doors will be automated, where possible. In active areas where a door must remain closed but will be utilized, a trash can and a tissue dispenser may be available to use to open the door and then discard the tissue. If a door can remain open, it is best to leave the door open to reduce the chance of transmission.
If an individual in a building tests positive for COVID-19, the entire building might not be shut down. Whenever possible, the immediate space(s) occupied by the positive person will be deep-cleaned based on CDC protocols and will be reopened once disinfected.