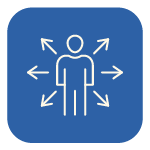 COM is mask friendly! Face coverings are strongly recommended indoors when in common spaces. Be kind and respect the choices of others.
---
Updated May 4, 2022
Staying Safe
To safely resume daily activities it is important to understand potential risks and adopt different types of prevention measures to protect you and our College community by reducing the spread of COVID-19.
The following is a list of the safety precautions the District has taken to protect the campus community:
Secured 60,000 N95 masks in early February 2022 for distribution to employees and students
Mandated vaccinations for all employees
Mandated vaccinations for all students
Mandated vaccines for vendors, contractors, and other campus visitors
Highly recommending boosters for eligible employees
Highly recommending boosters for eligible students
Requiring surgical masks and/or N95/KN95 masks be worn at all times while indoors and outdoors when unable to physically distance, regardless of vaccination status
Providing surgical masks and/or N95/KN95 masks for all employees
Providing surgical masks and/or N95/KN95 masks for all students
Providing face shields upon request
Requiring all employees to complete a symptom screening prior to being on campus
Installed Plexiglas protective barriers for open-space workstations
Installed MERV 13 filters in HVAC systems where possible
Portable filtration units have been deployed to all classrooms being used during the spring semester
Portable filtration units have been deployed to personal office spaces on an as-requested basis
Hand sanitizer is available in all classrooms and workspaces across both campuses
Sanitary wipes are available in all classrooms and workspaces across both campuses
Classrooms and restrooms are cleaned daily using prescribed cleaning and sanitizing protocols, including the use of fogging machines
Large group meetings or gatherings have been limited
Testing will be available for employees and students on site throughout spring semester
Designated COVID-19 Oversight and Implementation Teams
Designated a team to monitor local, state, and federal guidance and response to COVID-19
Designated a team for contact tracing
Developed COM STRONG webpages—centralized COVID-19 resources for all students, employees, and visitors to campus
Provided training and instruction on how COVID-19 is spread and how to protect against COVID-19
Ensured adequate signage was prevalent on all buildings, classroom, and office spaces with current health and safety information
---
The procedure details how to respond when students, employees, and authorized visitors have had potential exposure, confirmed exposure, or positive lab test results for COVID-19. It is imperative that the District procedures are followed to reduce the spread of the virus, keep our community safe, and our classes on schedule. 
---
College of Marin COVID-19 Teams
The Oversight Team is charged with providing direction, establishing timelines, and creating general communications to internal and external constituents and will include leadership of each constituent group.
Oversight Team Members
David Wain Coon, chair
Monica Applegate
Lindsay Bacigalupi
Maridel Barr
Nicole Cruz
Jonathan Eldridge
Keli Gaffney
Nikki Harris
Patrick Kelly
Jesse Klein
Greg Nelson
Meg Pasquel
The Implementation Team serves as the tactical team which will address the many program or discipline-specific details necessary to reopen the College safely and effectively.
Implementation Team Members
Jeff Marozick, chair
Lindsay Bacigalupi
Ryan Byrne
Klaus Christiansen
Nicole Cruz
Patrick Ekoue-totou
Jon Horinek
Stormy Miller Sabia
Annie Ricciuti
Sadika Sulaiman Hara
Cari Torres-Benavides
Lisa Tostenson
Alina Verona