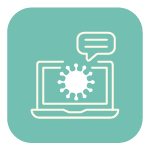 All employees play a role in stopping the spread of COVID-19. This page has information to help train the campus community on infection prevention techniques and the importance of physical distancing, correct use of face coverings, and frequent hand washing.
---
Updated May 4, 2022  
All Employees Must Complete Disinfectant and Sanitizer Training
Access the training through ProLearning on the MyCOM Portal home page. Search for the course titled "Coronavirus: Cleaning & Disinfecting Your Workplace (around 10 minutes)." You can also search for this course by provider (College of Marin) and then locate the course title. Note that training course titles don't use COVID-19, they use coronavirus instead.
Stop the Spread of Germs
It's important to stay home if you have a frequent cough, fever, difficulty breathing, chills, muscle pain, headache, sore throat, recent loss of taste or smell, or if you or someone you live with or has been diagnosed with COVID-19.

When To Seek Medical Care
Seek medical attention if symptoms become severe, including persistent pain or pressure in the chest, confusion, or bluish lips or face.
Fight Germs. Wash Your Hands.
Wash hands frequently with soap and water, including scrubbing, for at least 20 seconds (or using hand sanitizer with at least 60 percent ethanol or 70 percent isopropanol when employees cannot get to a sink or handwashing station, per CDC guidelines).
How to Make Your Earloop Mask Fit More Tightly
How To Wear A Mask
Face coverings don't work when they aren't worn properly.