March 23rd, 2021 - 10:05am
This is our first faculty spotlight in our year-long series on College of Marin's (COM) Umoja program.
Join us in 2021 as we explore how COM's Umoja program empowers students, promotes unity, and builds community and equity.
Faculty Spotlight: Patricia France
Umoja instructor Patricia France has been working at COM since 2018; she first gained experience teaching at the Peralta Community College District in Alameda County. Born in Berkeley, she considers herself a Bay Area native and currently lives in Oakland. She grew up with her mother and two older siblings in Oakland and Richmond where her mother was determined that France would get a good education.
"Being a kid who came from extreme poverty, my mom fought her way to get me into a prestigious private high school," remembers France. "They were going to kick me out, because we didn't have the money to pay for school."
Thanks to a mysterious scholarship that covered the cost of the rest of her high school education, France was able to continue attending the private high school. It was in an advanced honors government class where she became interested in being a teacher.
France wanted to get into an honors English class, but was denied because the teacher didn't think she would succeed. She experienced inequity by observing that certain students were allowed to take honors classes while other students were not. France's working mother always encouraged her, but she had to work. Based on France's experience she began the journey to advocate for herself.
So, France decided to ask another teacher, Sister Collette, who taught an advanced honors government class.
"Sister Collette, the hardest teacher in school, let me in her government honors class. It was the best class I had ever taken. Not only did I get into in the class, I felt I really had an education and I saw the difference of honors classes compared to the regular classes," says France.
This was one of the first times she noticed the inequality of education. "Like Oakland, it was a very diverse school. It was possibly just economics or having people who could advocate for you that was a problem," France recalls. "That was one of the first times I noticed and questioned this. 'Why are they reading that, and I'm still reading the same authors over and over again?' I enjoyed Jane Austen and Shakespeare, but why did I have to find John Steinbeck's East of Eden on my own or discover The Metamorphosis by Franz Kafka by myself? I had had enough of Jane Austen and Shakespeare already."
France was the first person in her immediate family to go to a four-year university. Her counselor helped her through the process of selecting a college, scheduled campus visits, and gave France four college application fee waivers. She attended St. Mary's College in Moraga, a small college where she was able to talk with her professors. She took part in a cohort program called High Potential which allowed students who showed academic potential to receive extra support.
"I was able to move into college early where they taught us college life—how to get your books, where the financial aid office is," states France. "They talked about how to discuss topics in class and write papers. It was great because it challenged me. I was a quiet kid. I had to make my way to talk. When school started, it felt as if I was already acclimated, instead of just being thrown in. I wouldn't have been able to navigate that without a little bit of help."
"St. Mary's was a great education. When I think about Umoja, I think about my experience of being a kid who didn't have that support, then was given that support and walked through that process. Being at St. Mary's was an amazing experience and seeing where I am now and seeing where I came from, I wouldn't change it."
After graduating from college, she decided to work and take care of her mother. When she was younger, someone told her she would become a teacher. She didn't think she could do it, but always had the idea in the back of her mind. She decided to approach teaching through being a counselor and was accepted into the Wright Institute in Berkeley.
During this time, her interest in writing and art held her attention and she kept writing and attending local art openings. While taking a poetry class at Berkeley City College, a mentor told her about a graduate program called Stonecoast at the University of Southern Maine. Her mentor, another instructor, Sharon Colman, encouraged her to apply and she was accepted to their MFA Creative Writing Program.
Before graduating, the same mentor recommended a faculty diversity program at Peralta where they supported graduate students and allowed them to gain experience teaching community college students. It was here she learned the craft of teaching and became an adjunct instructor for the district. After several years of teaching part-time at the various colleges within the Peralta district, she applied for a full-time teaching position at COM and got the job.
She was assigned to teach English and humanities courses for COM's Umoja cohort along with Umoja Counselor, Troy Stevenson, who taught the college success counseling courses that followed her English courses. She also became a part of the Umoja team helping plan events and mentor Umoja students.
Humanities 101 introduces students to college and different disciplines through the lens of social justice, focusing on a variety of themes, such as food, gender, activism, sports, magic, home, and wilderness. Students learn how to discuss, write, and give presentations from guest lecturers in ethnic studies, communications, history, biology, art, and other fields. Every topic centers on valuing the experiences and voices of Black people and people of color.
"I am intentional about showing people of color in all my classes and trying to provide a full picture, so my students know they have a place in the college and academics," states France. "It also allows them to relate. 'This person had a hard time, but they became a famous scientist.' It shows why you are struggling right now, but it's going to be okay."
After attending an Umoja statewide conference, COM Umoja students expressed they wanted more inspiration and positivity of Black excellence. Instead of hearing about negative statistics, France knew there needed to be a move to a more complete and positive view for people of color.
Because of this, she changed her Humanities 101 theme from activism to wilderness.
"I chose to teach the wilderness humanities course after thinking about the generational trauma of racism and slavery, how that is passed on generation upon generation. I saw how students were dealing with emotional stuff outside of school, racism outside of school, and then coming to school to deal with more racism. So, I really wanted to give students a foundation of this idea of strength."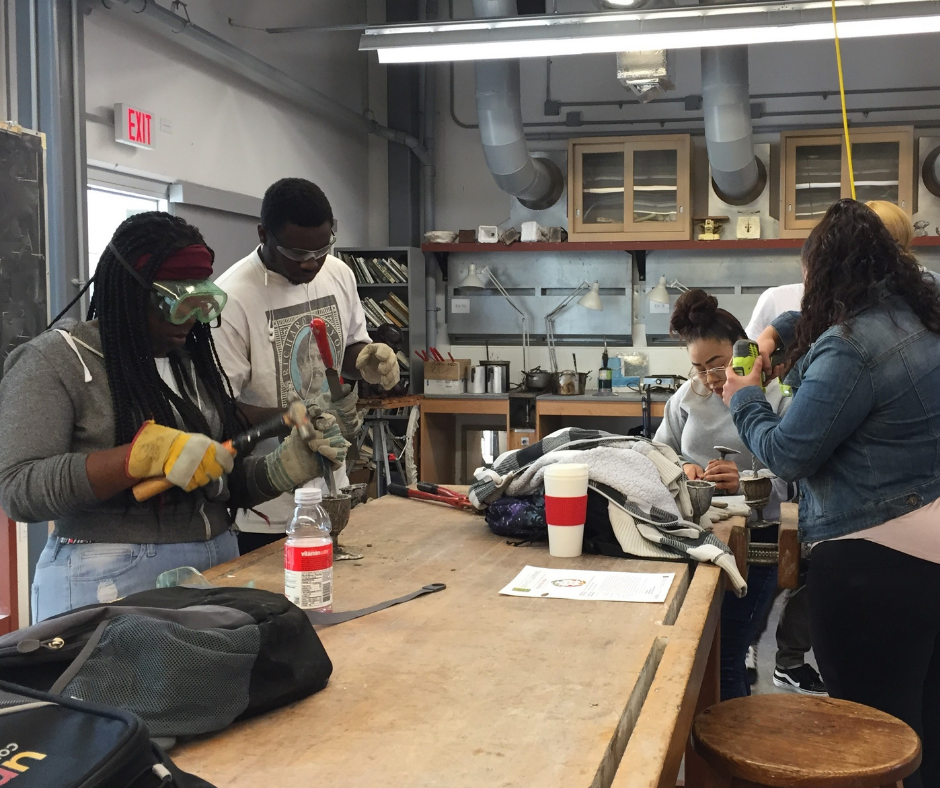 "I felt there was something about giving people grounding and being part of the earth that gives a foundation of feeling successful and confident. This generation is already social justice minded and involved. They're very aware. But you also have to take care of yourself mentally. You have to learn where your history is to dismantle it."
The course looks at how students can use meditation and yoga to heal, and demonstrates that these practices are accessible to people of color. Umoja faculty Walter Turner lectures on ethnic studies to discuss how history has affected people of color not feeling safe and the ways to combat this today. They discuss national parks, hiking, and organizations trying to fight against these beliefs to ensure people of color know they have a place there.
"We talk about decolonizing yoga, decolonizing the wilderness so that, in this space of activism, they also have a place where they can enjoy nature and be part of this land, and get back to their history," states France. "We need something because they want to be inspired. They already have enough on their minds as it is. So, we are really moving towards the positive."
France sees the wilderness cohort class being infinitely expandable. She has also worked with Umoja faculty Colleen Mihal to create a speaker series called Equity in Mental Health focusing on Nature and Wilderness. Umoja has partnered with COM Psychological Services to bring resources to help students with stress reduction and to bring equity to mental health.
This semester Phoenix Smith, a professional public health social worker, ecotherapist, Initiated Elder, and spiritual teacher in the Lucumí Afro-Cuban Spiritual Tradition, talked about ecotherapy and liberating oneself to look beyond examining methods of oppression and moving into advocacy and agency. In April, yoga instructor Satya de La Paz will lead a yoga session specifically for students and faculty of color.
At the Umoja conference, France also heard from a panel of students who went to Ghana.
"It inspired me. It made me realize we have to have a study abroad program at COM. These young men talked about their experience of going to another country for the first time, being somewhere that's talked about in history books about where African Americans came from, to actually go and experience a different culture, and being in Africa. The way they spoke about the trip and how it changed their perspective when they came back—that is a huge thing to give to young adults at a young age."
Umoja was ready to start fundraising for a study abroad program when the pandemic hit. France and Mihal are still working with the Umoja team to develop this program, which is very important to her, Mihal, and the team.
In COM Umoja, France says "We're on a mission to be a model for our students, be a model for other schools, as well as work together with other schools to break this up. We need to be able to have more of our students feel like education is for them, whatever that may look like."
Read our first story on Umoja.
Discover how COM's Umoja Community can help you succeed at marin.edu/umoja.
Support COM Umoja by donating. All donations go directly to the program and student scholarships and are tax-deductible.