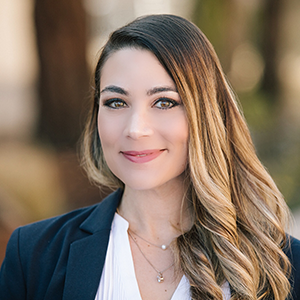 NOVATO / KENTFIELD, CA—College of Marin (COM) is pleased to welcome Alina Varona as Dean of Workforce Development and Career Education. She will be managing career-readiness programs and working with community businesses to help them meet their employment needs.
"We're entering into a really unique time nationally and locally. Despite hardships in our local communities, College of Marin is positioned to be at the epicenter of recovery," Varona said. "We need to ensure we are present and engaged in the conversation, as well as thinking about how we best support our students to reach their economic and career goals."
Varona has been working in education for the past thirteen years. Most recently, she was the associate dean of career pathways and the Strong Workforce Program at City College of San Francisco, and before that at Skyline College as the faculty coordinator for their Career Advancement Academy for four-and-a-half years. She will complete her doctorate in education at the University of California, Davis, this summer and is focusing on issues of equity within the California Community Colleges system.
While the nation is in an economic downturn brought on by the COVID-19 pandemic, now is a critical time to be at the helm. COM's Career Education programs specialize in high-demand career fields that students can typically finish in a year or less, such as agricultural, computer, graphic design, health sciences, business, education, and industrial careers.
COM is advancing the programs by offering these courses online and using innovative approaches such as virtual reality training for those in the Automotive Technology program. The Court Reporting program is one of the only programs in the state, and it is currently being moved completely online. Varona will also be tasked with engaging in dialogue of how administration of justice is being taught, particularly given the national conversations centered on structural racism and racial justice.
Varona's role in workforce development will enable her to establish partnerships and create innovative solutions with local businesses to help them meet specific employment needs to strengthen the local economy. For example, she will lead the effort to connect the Machine and Metals Technology program with local industry and incorporate computer numerical control (CNC) machines to build materials through computer-aided designs.
Assistant Superintendent/Vice President of Student Learning and Success Jonathan Eldridge is excited to have her breadth of experience.
"She has a deep understanding of workforce issues and their intersection with educational equity, and that a community college can have a significant impact on the lives of students and community. Her approach and experience with delivering innovative programs is something that resonated with faculty and colleagues. She will help us further connect with the local community and work toward supporting and expanding these amazing programs."
Find out more about Career Education programs at COM. If you are an employer who would like to discuss workforce development partnerships with COM, email Alina Varona.