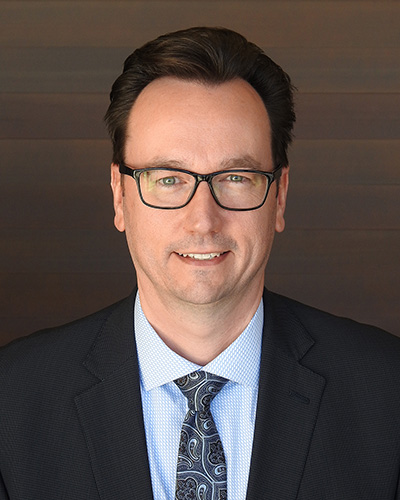 Dr. Jonathan Eldridge serves as the Assistant Superintendent/Vice President for Student Learning & Success at College of Marin. He has been at the College for over ten years and served in this capacity for the past nine. He leads both the academic and student services divisions, which affords the opportunity to create a truly coherent and integrated educational program for students and help all faculty and staff see the connections in their work. 
Jonathan received a bachelor's degree in History with a minor in Political Science from Central Washington University, graduating from CWU's William O. Douglas Honors College. His master's degree is in Student Affairs in Higher Education from Colorado State University and his doctorate is in Organizational Change and Leadership from the University of Southern California. 
In addition to working at College of Marin, Dr. Eldridge has also worked at the University of Washington, served as Dean of Students at Lewis & Clark College in Portland, Oregon and Vice President for Student Affairs at Southern Oregon University. These experiences at flagship, land grant, private, and regional institutions have proved to be invaluable in informing his work at College of Marin, where he employs equity-minded practices to help students of all ages and backgrounds succeed in educational opportunities that better prepare them for employment and life success. Toward this end he has initiated and nurtured programs such as COMPASS (College of Marin Promoting Access & Supporting Success) and Summer Bridge and connected them to learning communities and other student services. These efforts have led to enhanced success and completion for thousands of first-generation, low-income Marin students who otherwise may not have found their way to and through college. 
Jonathan has also developed, expanded, and nurtured partnerships with 10,000 Degrees, Canal Alliance, Marin Community Foundation, Marin County Office of Higher Education, all local school districts, Sonoma State University, Dominican University, Marin Economic Forum, and many others to allow the College to deliver more fully on its commitment to recognize historical and systemic disparities in opportunity and outcomes and direct resources to addressing those disparities. 
Jonathan currently serves on the Boards of Directors of 10,000 Degrees and the Marin Economic Forum and has previously served on the National Association of Student Personnel Administrators Board of Directors, United Way of Jackson County (Oregon) Board of Directors, Ashland Community Hospital Foundation Board of Directors, and the Ashland Cultural Diversity Alliance. He has extensive experience serving on accreditation review teams, both with the Northwest Commission on Colleges and Universities and the Accrediting Commission for Community & Junior Colleges. 
Dr. Eldridge lives in San Rafael with his wife, Dr. Rima DasGupta, their daughter, Mira, and their remarkable dog, Sadie.